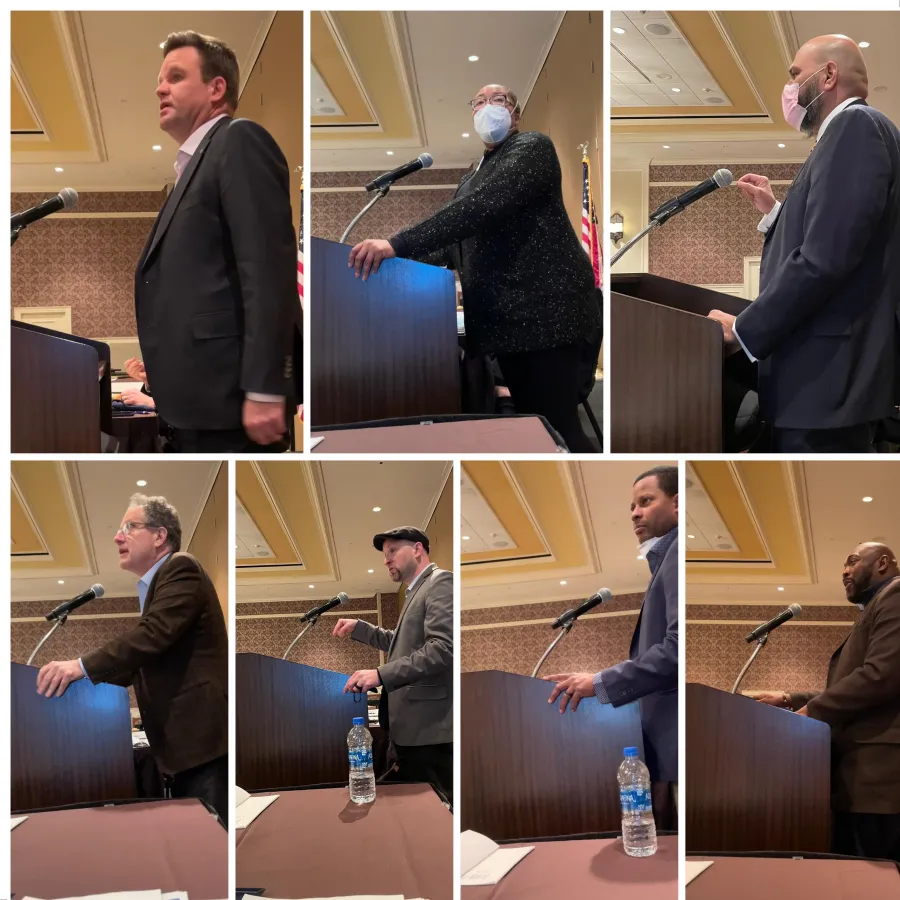 On Wednesday, January 12, the Pennsylvania AFL-CIO hosted their first Labor 2022 retreat of the new year in Hershey, PA.  The meeting convened affiliate union leaders from across the Commonwealth to discuss the strategy for the 2022 campaign cycle.  

 

A bellwether for national politics, Pennsylvania is the top-tier battleground state with couldn't-be-higher-stakes gubernatorial and U.S. Senate elections, along with the State Legislature.  The state federation wasted no time pulling together union leaders to prepare for a metamorphic electoral cycle that will focus on union membership's critical issues. 

 

PA AFL-CIO President Rick Bloomingdale set the stage for what is at stake for unions and all workers alike in 2022 and how the election can shape the Commonwealth for a generation.  Secretary-Treasurer and COPE Director Frank Snyder reviewed the State Fed's draft plan in explicit detail, which was ultimately endorsed and approved unanimously by the Executive Council.

 

Before commencing the Labor 2022 retreat, the Pennsylvania AFL-CIO Executive Council unanimously endorsed Josh Shapiro for Governor; this is the organization's first endorsement of the cycle.  

 

The road to the White House in 2024 goes through Pennsylvania, making this year's election so pivotal.  The State Federation invited key National AFL-CIO Staff to participate and make presentations important to building the foundation of the campaign plan.  AFL-CIO Mobilization Director Ramon Becerra went through an overview of the plan's foundation.  AFL-CIO Communications Director Tim Schlittner led a conversation on the value and importance of messaging and consistent communication outreach to members throughout the campaign.  Maya Goines, AFL-CIO Director of Federation, Oversight, Training, & Common Sense Economics, outlined the many tools and resources available for the campaign and the importance of investing time into developing volunteers and campaign staff.  

 

Speaking as a newly elected Delaware County Councilman and Path2Power alum, Richard Womack Jr. underlined a union-led, member-to-member campaign's impact on his successful election.  Rich Fiesta and Matt Morrison, Executive Directors of the Alliance for Retired Americans and Working America, respectively, emphasized the role of constituency groups and community allies in grounding an issues-based campaign, especially amongst Pennsylvania's massive senior population. 

 

Stephen Cousins, AFL-CIO Central Regional Director, and Rob Burns of the Allegheny-Fayette Central Labor Council described how the field structure is rooted in the activism of central labor councils and powers strong campaigns. 

 

The Pennsylvania AFL-CIO thanks our union family at the National AFL-CIO for their constant support throughout the development and launch of the 2022 campaign.